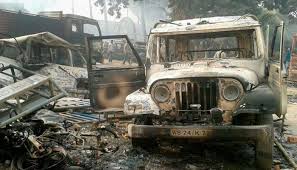 Thanks to some unbiased news sources (I think just 1 or 2) who honestly reported Malda (WB) riots and Purnea (Bihar) riots. Our great biased media, who was crying and giving different live reports during Kalburgi case, Dadri case and Award Wapsi, is maintaining a well expected silence on Malda and Purnea riots now. The reason is simple, they can't blame Modi or BJP for Malda and Purnea riots and it always looks like speaking against anti-Modi parties is against the policies of these biased news channels and reporters.
Law and order in State is State Government's responsibility but somehow people from a particular religion were accused in Kalburgi and Dadri cases so it was very easy for our biased media to link these incidents with BJP and Modi but this time the case is a bit different. Now the accused and the state Government cannot be related to BJP or Modi so these biased reporters do not have any interest in reporting these incidents. Malda and Purnea riots are clear failures of TMC and JDU+ Governments respectively.
Some of them had to report these incidents after a few days but these masters in languages twisted the headlines. Just by reading their headlines for Malda and Purnea riots, people would feel that some BJP MP/MLAs/party members have done something and they got arrested for the same. Their headlines didn't make it clear why BJP members were arrested and how the state Governments failed to maintain Law and Order situation in State.
We are not supporting or opposing anyone here but we expect that media should be unbiased and it should report all such incidents honestly. Success and failures of all State and Center Governments should be reported without any biased views for any particular party/leader.