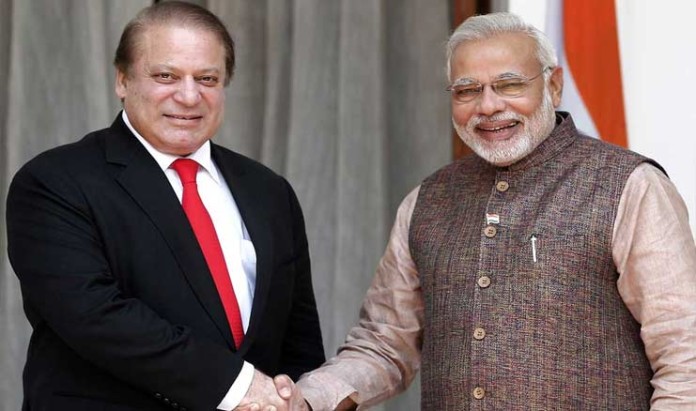 Why Pakistan wants to continue peace dialogues with India?
I think the first preference of present Modi Government was always to handle China and Pakistan in a strict manner. Obviously our biased media will never report the correct side of some of very good steps taken by this Government in this direction.
China is continuously trying it's best to increase its influence in all neighbor countries of India. Everyone is very well aware of China-Pakistan team against India. Now see some of the steps taken by Modi Government to bring China and Pakistan down to their knees.
NDA Government has taken many steps to improve relationships with USA, Sri Lanka, Afghanistan, Nepal, Bhutan, Bangladesh, Iran, UAE etc. Operation Maitri (It was the rescue and relief operation in Nepal by the Government of India and Indian armed forces in the aftermath of the April 2015 Nepal earthquake. India's response was started within 15 minutes of the quake), India-Bangladesh land and port agreements, providing help to Afghanistan, Chabahar port and other agreements with Iran, agreements with UAE are recent examples of these steps.
NDA Government has given free hands to BSF to respond to Pakistan in case of any ceasefire violations. Indian forces dismantled China's watchtower in September. China's People's Liberation Army (PLA) had started construction of a watchtower after intruding about 500 meters deep inside the Indian Territory but faced stiff resistance from the Indian troops, who not only dismantled the construction work but also prevented the PLA from carrying out it further.
It's not a hidden fact how Balochistan area in Pakistan is struggling to become a free country. Balooch People prefer good relationships with India and hate Pakistan and its army.
Now Pakistan does not have good relationships with Iran, UAE and Afghanistan. China and Pakistan are really worried about the improved relations of India with USA, Iran, UAE, Afghanistan, Nepal and Bangladesh. You can see various debates on Pakistani New channels on youtube about it.
Just see this map and you will understand Modi's strategy to handle Pakistan. India's improved relationship with USA is an additional pressure on China and Pakistan.
Red colored area of Pakistan is Balochistan. Now see the position of Iran, UAE, Afghanistan boarders and also the most important Chabahar port.