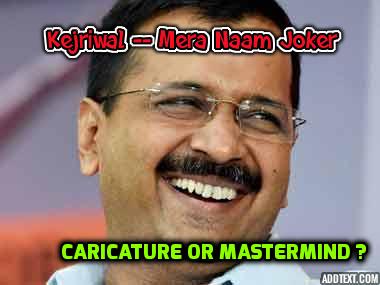 Kejriwal Sir,
Happy New year and have a wonderful year!
As we are in year 2016, will you still carry on with your blame game agenda? or start performing for people of Delhi.
People of Delhi are feeling cheated after elections, every day you come up with a new BlameGame and it starts a debate, which later turns out to be a frivolous one.
One year has passed in all these blame games, what about the major issues of Delhi? Who will take care of them?
We are not playing a Nukkar natak(Street theatre), where you raise social issues and act as a protagonist. You need to fix those issues being a responsible CM.
Now a days people take you as an insane CM, who always has complaints like activists. Stop behaving like MeraNaamJoker (caricature) and show some seriousness towards critical issues.
You have one answer to every question "PM-Modi Hame kaam nahin karne dete" PM/Modi isn't letting me work. I have never heard anything positive about development or agriculture growth or Reduction in Crime or Foreign investment during your tenure as CM.
Rather than accepting your failure in all areas, you are just playing a blame game. I think, it's better to vote for BJP or Congress next time. At least, they will be answerable to people, unlike you just blaming everything on PM MODI.
Let's talk something about Bihar elections, you helped Lalu-Nitish alliance and fortunately they won the polls. So you believe Laluji is a good leader and will provide good governance.
Crime is at peak in Bihar now, will you talk to Laluji and Nitish regarding this or your Gyan (knowledge) is only for BJP and Modiji.
One more thing left to discuss without which this article is incomplete, you believe in pooling concept, whether it's carpooling in Delhi or pooling with social activists for India against corruption or pooling with corrupt politicians in Bihar.
I cannot digest your pooling agenda in Bihar. I think you are having a big plan and eyeing towards 2019 parliament polls. But people of India are not fools and they will never let your agenda fulfill. We don't want a caricature ruling India.
One thing on a lighter note, whom you will blame if you become PM. Get your list ready 🙂
Delhi being a Special state will definitely have some central Interference and it's from years. So it's better next time you choose a state of your preference and leave People of Delhi… Being a Delhite, I will pray for you….                       
Thanks for showing us dream about "Corruption free India" through India Against Corruption. Delhi took you seriously and put you on thrown of Delhi. We are ashamed of our self. God Bless Delhi……..