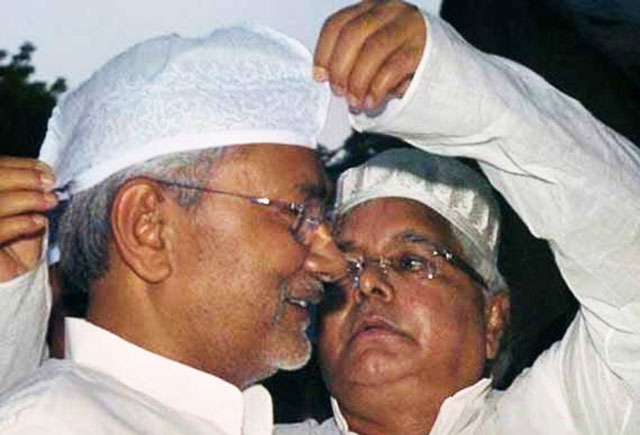 Nitish Kumar, who was known as a good leader for his development work and corruption free governance during NDA rule in Bihar, has suddenly become helpless in JDU, RJD and Congress alliance. Sometimes I feel that his position in current Bihar Government is more like the position that the former Prime Minister Monmohan Singh had in UPA Government. We are very well aware that the real boss of UPA Government was Sonia Gandhi and not Manmohan SIngh and now it seems that the RJD Chief Lalu Prasad Yadav is the real boss and king maker in current Government in Bihar.
Now RJD is the largest party in Bihar state assembly. Elections results in Bihar had started a debate on the possibility of Jungle Raj 2 in Bihar. Supporters of Bihar CM Nitish Kumar always believed that Nitish is capable enough to handle political as well as non-political criminals and Jungle Raj cannot return under his leadership but the recent news about Jungle Raj in Bihar have proved that it was a wrong assumption. Biased media channels would not highlight these issues in Bihar but thanks to some unbiased news channels and other sources who are honestly reporting all such incidents and making sure that this failure of Nitish Kumar and Bihar Government is highlighted honestly. I hope these unbiased reports will put some pressure on Nitish Kumar and his ministers.
It is a wakeup call for Nitish. If he really wants to place himself as a leader of a possible third front before next Loksabha elections then he must start behaving like a head of Bihar Government and take strict actions against all those who are trying their best to start Jungle Raj 2 in Bihar.
Next Loksabha elections would not be an easy task for Nitish and all other opposition parties as by that time PM Modi will have reports of a lot of good things done by his Government to showcase himself as an icon of development and corruption free governance. Nitish, with the image of a head of Jungle Raj 2, would not be able to count himself as a strong candidate against Narendra Modi.